Basement flooding is typically caused by heavy rains, melting snow or damaged pipes. But the most damaging and annoying reason for basement flooding is sewer backup. This happens when sewage from sewer lines, for some reason, can't flow naturally into the sewer and begin to flow back or back up into your house. Sewer water is dirty, foul-smelling and teeming with all sorts of harmful microorganisms. Sewer backups will not only damage your property but also put to risk your health and your family's safety.
Back water valves play a crucial role in protecting your basement from flooding. The valve allows any excess water to be blocked off so there is minimum damage. The backwater problem has become so common that the City of Toronto has begun a Basement Flooding Protection Subsidy Program. This program will help the citizens of Toronto to protect their families and property from flood damage (for information on program click here).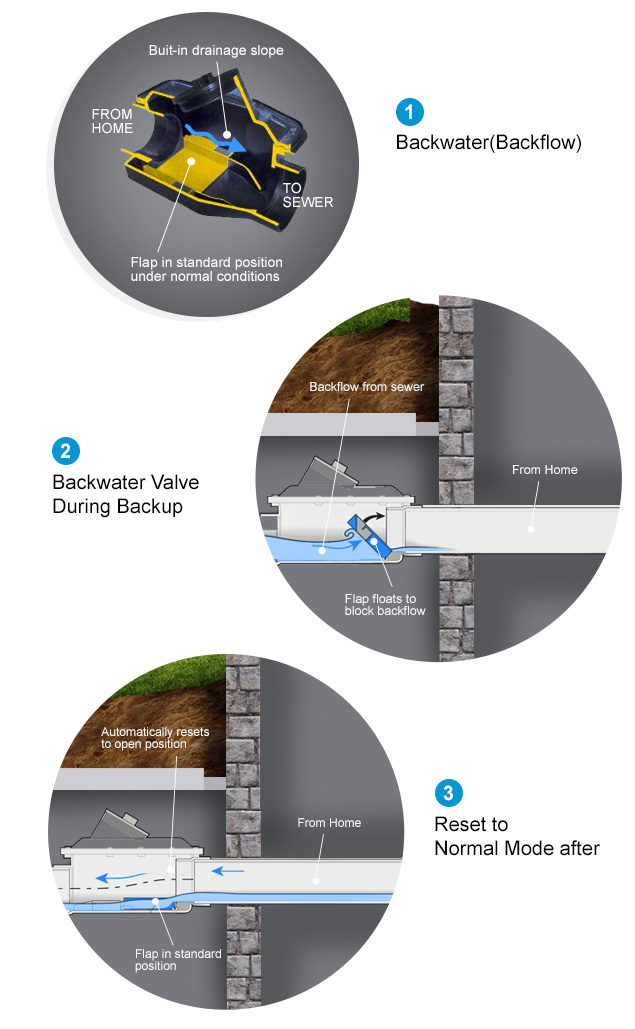 We're committed to helping you go through the application process to obtain the subsidy, and provide the highest quality installation at a very reasonable cost. We understand the stress and uncertainty that a homeowner may experience during such a project and we promise to guide you every step of the way and make sure your installation is smooth, timely and you're completely satisfied.
Our Service promises:
FREE, No-Obligation Estimates.
A formal Warranty.
Highly Skilled, Quality, Local Plumbers.
Punctual and Efficient Service.
Here are just a few of our client reviews:
Sewer Backup Valve
A sewage backup required emergency work, inside and outside. Naz came out to assess the plumbing situation and had a crew there quickly. The front lawn was dug up and the clog located and repaired. A backup valve was installed and the hole filled in. Because a large tarp was used, the lawn looked the same after the work was completed. Efficient, speedy, friendly service with explanations along the way to satisfy our questions. Because of two major flooded basements from rain storms, a waterproofing of the basement was required. Naz was called again. Again his crew arrived on time, completed the work quickly, protected the work site, and cleaned up well afterwards. They even changed a corroded downpipe that was not included in the original estimate,. I was totally satisfied with both projects. Well done Naz, Walter and the others!
- Bob, Toronto
Water Line and Backup Valve
Thank you to Public Plumbing the great team of workers and Naz the manager. The company upgraded my water service and back up value fast and very professional at a very competitive price. They cover all plants and lawn and filled the holes after completing the work. This company has my total trust.
- Mark, Toronto
Backflow Valve and Sump Pump
After having the sewer back up last year, we were not willing to live that nightmare again. Public plumbing put in a back flow valve and sump pump. All the staff were very professional. They showed up in a timely manner. I highly recommend this company.
- Cathy, Toronto
Call Now For Your Backwater Valve Estimate:
(647)494-9556