Dear Homeowner,
Welcome to Public Plumbing! – A Plumbing Company of Choice for Toronto & Area.
Our specializations are residential and commercial Water Main (Line) Installations, Repair, Service and Assessments - we've helped hundreds of Toronto Homeowners replace LEAD Water Pipes and bring their home up to date with latest building code changes.
Water Main is the main water pipe that brings in water supply from the city. In the last few years the City of Toronto launched a Water Service Replacement Program (WSRP) to replace lead piping as it may pose health risks: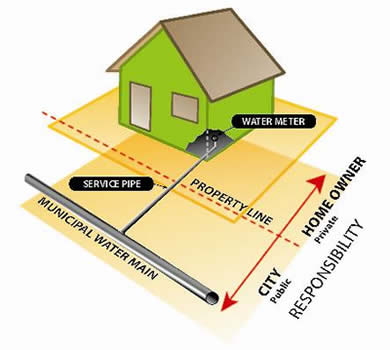 "In homes built prior to the mid-1950s, pipe may have been constructed from lead. Replacing the City portion of the pipe alone cannot fully address concerns about lead in the drinking water. The City of Toronto encourages homeowners to replace the private side of lead pipe before or after the City-owned portion is being replaced, or at the same time if the same City contractor is being hired by homeowners. Replacing the entire water pipe is the best way to ensure your drinking water does not come into contact with lead." Source: City of Toronto Website

As leading plumbers in GTA we've replaced 100's of water mains since 2010, all homeowners are very happy with our service as we offer fast turn-around, service warranty and very competitive rates(Read customer reviews).
In general, there are two types of replacements – excavation and trenchless.
Excavation
With this type of installation, we carefully excavate the needed area and proceed with line replacement. After the install you're lawn or the area excavated will be returned to its original and in most cases even better condition.
Trenchless
Trenchless is a NO-Dig installation method in which a torpedo is launched underground with your new line. No digging is required! While this method is popular, it's not always possible as your soil type, trees on property, and other elements can obstruct the installation (underground).
"No Dig" Trenchless Technology Demonstration:
Next steps...
Once we assess your property layout, landscaping, trees in your yard and distance from City connection we can recommend the best option for your particular situation. The good news is we are fair with our pricing and deliver Top quality service! (Just read some of our reviews Read Reviews)
Call Now For Your Water Line Service Estimate:
(647)494-9556