Basement flooding is a common reason for property loss and structural damage. Installing a sump pump is way to keep that dirty and invasive water out of your home. Sump pumps are pumps that are placed in special pits, which collect the water in one place. The pump is then used to draw water out of the ground below the basement and pump it away from your home or business.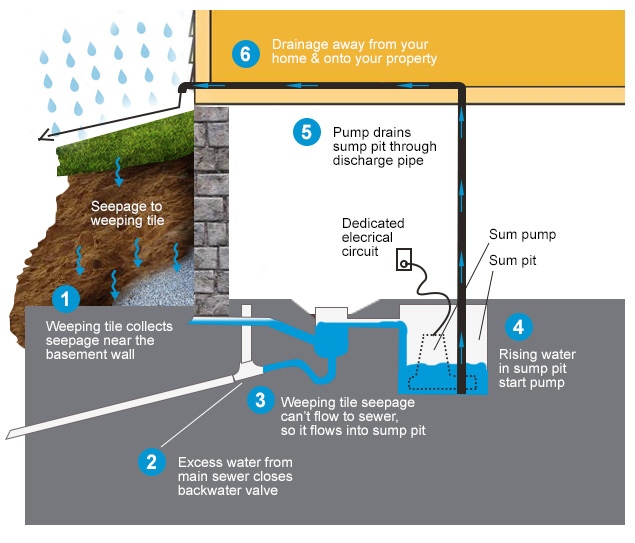 We offer sump pump installation service. We understand that the cost of basement flooding is too high for you and your family.  Standing water can lead to all sorts of health problems. Our professional installers will help you find the cause of your flooding problem.  Then we will help you decide if a sump pump is the best option for you. Our professionals will identify the best location for a sump pump and will carefully and efficiently install it.
We have heard from tons of previous and returning clients that our service is top notch! We only send the best trained and skilled plumbers in Canada. We offer FREE No Obligation quotes, and fair rates. We understand that this is your home we're talking about and we want to provide you with the best customer service.
We promise to always offer:
Highly Skilled, Quality, Local Plumbers
Expert Second Opinion & Consultations
Honest, Reliable & Always on Time Professionals
A Clear Formal Warranty
Here are just a few of our client reviews:
Sump Pump and Waterproofing
Exceptional Service, second to none! My family was devastated due to numerous basement flooding each time it rained this spring. Mike came to the rescue and offered solutions to our problems. Each time they did a project, his team was efficient, courteous, and professional. Mike walked us through the specifics of installing a sump pump and waterproofing. He ironed our worries gave us peace of mind. Our sump pump works efficiently. The landscape at my front garden was exactly the same before the excavation. As if no one stepped on it! They really clean after their debris. That big job was done in two days. The quality of their work is outstanding. Their attitude is great. Nick fixed the leak on our meter working around the time slot when the city could shut off form the city's main line. I recommended Public Plumbing to my neighbour and she called Mike the next day. She was also happy about the service (sump pump), and called them for another project. I am a very satisfied customer!
- Josie, Toronto
Sump Pump, Interior Waterproofing
Had a leaky basement that could not be waterproofed from exterior, so I called Public Plumbing for an interior solution. They answered by questions and came in immediately to waterproof the side of my basement and installed a sump pump. So far so good. Quick and easy and gave me a competitive price as I received three quotes and negotiated price. Very happy with the service. Thanks
- Ren, Toronto
Call Now For Your Sump Pump Estimate:
(647)494-9556