Your basement may be showing signs of water intrusion if it feels humid, produces a musky/moldy smell, or visible moisture spots. These signs are more common in spring and fall as rain water and snow runoff create water pools underneath and surrounding your home. Under the right conditions, the water pools build up pressure and permeate concrete, sometimes causing cracks or visible moisture spots.
Here is a diagram of a typical basement water intrusion: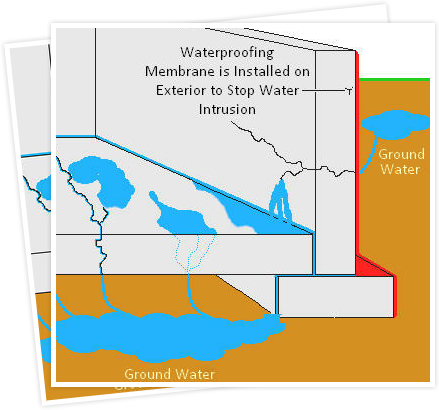 The good news is that these leaks can be prevented with a Basement Waterproofing System. The membrane is usually installed on the exterior of the foundation but can also be applied on the inside of the basement. There are also additional measures that can be taken to foolproof the basement by creating underground channels for water runoff. At Public Plumbing we take care of all of the above and our highly skilled team can waterproof your basement and solve those leaks once and for all. By using proven technologies and latest equipment, all of our projects are done on time, with highest quality, and the best part - at very affordable rates!
Here are just a few of our client reviews:
Leaky Basement
Water was coming into the bedroom of my furnished short term rental income property. It was important to get it fixed quickly between guests. I did not want to dig up the front of the house at the beginning of our busiest season. Public Plumbing responded quickly and gave me the best quote and the fastest service! I picked them from a newspaper ad and was a bit dubious. They did tell me that the best way was to dig from the outside, but I could not do that at this time of year. The crew was great, very clean. Walter, the foreman, kept in communication. They were professional and provided me with licensing papers. The work was done quickly and looks very good. They had to dig down through the basement concrete floor which necessitated removing drywall, studs, insulation. They installed weeping tiles, a strong membrane, redirected a problem drain. They do not replace drywall and studs, etc., but referred me to Ivan, a carpenter/handyman colleague who is doing an excellent job as well. Great service! I would highly recommend Public Plumbing and will use them again. In my furnished rental business, I am often asked if I know good trades people. I will use this site for referrals! I did not know it existed until now. Thanks a lot!
- Paula, Toronto
Waterproofing after a burst pipe
From the initial visit great care was taken in finding out where the water was coming from and it was difficult to find. Once found, they took the time to explain what was needed and address all questions/concerns thoroughly. The crew led by Andrew was very impressive, they worked hard did a thorough job, completed the job on time, and left the site in good and tidy order. Bottom line, the outside pipe was replaced and our basement is dry! I will call them again without any hesitation for any future plumbing issues that may arise.
- Barbara T., Toronto
Waterproofing
Public Plumbing recently completed waterproofing on two sides of our Etobicoke home. All of the work was carefully hand dug by a wonderful crew from Public Plumbing. Our weeping tiles were cracked and had large tree roots in the tiles. The work was excellent and professionally executed. We would HIGHLY recommend Public Plumbing to anyone who wants assurance that there home will be protected in the future from any water damage by a company who has the expertise.
- Donna, Etobicoke
Call Now For Your Waterproofing Estimate:
(647)494-9556